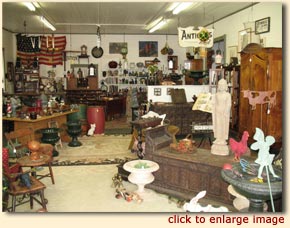 TRIP's Antiques, Garden & Gifts was opened in April of 2004 by owners William and Angela Sturgis. The store has a large selection of reproduction Victorian-style cast iron urns and planters to compliment a vast array of decorative garden items. There's an extensive collection of antiques and gifts that are unusual, interesting, and fun. You can find terra cotta pigs, cast iron ducks, large garden cranes, rabbits, frogs, alligators, glass bees and dragon flies sitting among 19th century tables, chairs, blanket chests, highboys, clocks, mirrors and more….all guaranteed to work with every budget large or small.
You are invited to bring along a camera and have a your picture taken in one of the oversize Adirondack chairs on the front porch and while visiting please say hello to our labs: Alice & Trixie.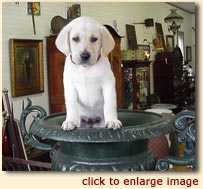 TRIP's is conveniently located on Rte 61 equidistant (about 30 minutes) from Manchester, Bennington and Saratoga Springs between the villages of Salem and Cambridge. While in Shushan visit the Covered Bridge Museum, the one-room School House, and the Georgi Museum all open weekends.
The store is open Friday, Saturday and Monday from 11:00AM to 5:00PM and Sundays from 12:00Noon to 4:00PM. 518.854.3335